Adjustable Arms
Hardrace Adjustable Arms are divided into four series - STREET, PERFORMANCE, RACING and STANCE. Each category is produced with hardened rubber bushes or sealed pillowball joints that provide excellent stability and road response during high speed driving or hard cornering.
Four series to fit your driving style
- Street Series
Street Series arms are suitable for daily use an are made with hardened rubber bushings utilised for the low friction and minimal deflection for dynamic shock control. The street series arms provide solid steering response and improved suspension feel.
- Performance Series
Performance Series arms are compound with pillow ball bushing, significantly improve response for better handling and maximum controlling performance, provide excellent driver feedback, precise control and solid suspension feel with aesthetically pleasing.
- Racing Series
Racing Series is constructed of 7075 aluminium precision fit and finish, manufactured using all-new design pillow ball bushing for racing level handling, 100% accuracy, during cornering, braking & throttle control, will yield the better lap time. Lighter alloy solution helps lower weight, fuel usage and running costs while improving service life and reliability.
- Stance Series
Stance Series are designed for fit extreme lower vehicle. Using pillow ball bushing utilizes the movement of the control arm. The product design helps the vehicle to lower to its extreme besides using coilover. New arm structure makes the BALL JOINT function as original arm, no bending on ball joint.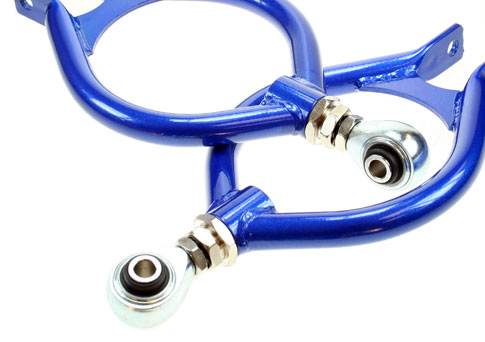 Uprated Alignment Arms
We offer a wide range of uprated alignment arms. The arms are generally available with two types of fittings, uprated rubber or rose jointed. The rose joints more often than not feature fully sealed bearings with an integral moulded rubber seal that completely protects the joint internals for the elements. This increases the life of the joint immensely compared to those with no protection or a loose fitting rubber boot.
Should you need a replace a joint some years down the road then no problem, all spare parts are available. You wont find yourself being forced to throw your complete arm kit away for the sake of a joint.
Most arms are adjustable but we also offer non adjustable in some specific applications where a significant benefit is gained simply by fitting the Hardrace arms with their uprated rubber or rose jointed ends.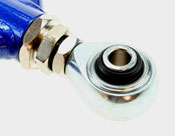 Why fit adjustable alignment arms?
The first benefit to fitting the Hardrace alignment arms is that they come with either an uprated bush or a rose joint. These uprated components minimise the movement in the arm in comparison to the standard items. You want minimal movement as any movement translates through to the steering in the form of vagueness and a lack of response the steering input. Each and every original bush has a degree of slop built into it to maximise the cars compliancy and minimise noise and vibration being passed into the cabin. This soft nature is exaggerated with age as the bush starts to deteriorate and their resistance to forces reduces leading to greater and greater deflection under load. As you turn the steering wheel the original bushes start to take the strain and in doing so compress. As they compress you have to compensate via the steering wheel as the original inputs effect is reduced via the bushes squashing.
You can improve the cars steering response and reaction to input by minimising or eliminating the play that exists in the original soft bushes. For the majority of road cars the Hardrace uprated rubber bushes will be sufficient. We use rubber rather than polyurethane due to the better noise and vibration absorption properties with no loss of effectiveness in reducing deflection in comparison to polyurethane. If you want to eliminate play completely then we offer rose jointed bushes. These provide a complete elimination in play for maximum response to steering input. Rubber and polyurethane bushes provide significant resistance to arm movement, they want the arm to sit in the position it was fitted in so when the wheel moves upwards through its travel the bush tries to push the arm back down to its resting position. The rose joints allow free movement of the arm with minimal stiction. This allows the suspension to work more efficiently improving the spring and dampers ability to function as designed and keep the cars tyres in contact with the ground and control body movement.
The majority of the Hardrace arms are adjustable. This allows you to alter key elements of the cars geometry to optimise the handling characteristics.
Camber
When you corner the cars body rolls. As the cars body rolls the outside wheels stand upright and then start to lean outwards. This is called negative camber. Conversely as you lower a car you tend to introduce additional static negative camber. The more you lower the vehicle the more negative camber is introduced. Negative camber is the wheel tipping in at the top.
You want sufficient static (i.e with the car stood at rest) negative camber to prevent positive camber under hard cornering but conversely excessive negative camber introduced when you lower a vehicle will lead to accelerated inside edge tyre wear, reduce traction for straight line acceleration and reduce the cars maximum braking ability. Hardrace adjustable camber arms allow you to set the camber correctly.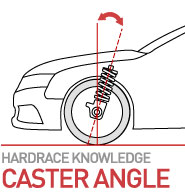 Castor
Castor is the angle of the front strut when seem from the side of the vehicle. Adding castor increases dynamic camber, i.e. adds camber when cornering. This means you can run less static camber as the castor adds more camber when you need it. Having to run less static camber improves traction, reduces tyre wear and improves the cars potential braking abilities through improved grip. Adding castor also improves steering feel by making the steering heavier. This generates additional feedback so giving the driver more communication with what the tyres are doing. More information means you can driver closer to the edge more accurately meaning you can go faster. Hardrace adjustable castor arms allow you to adjust castor.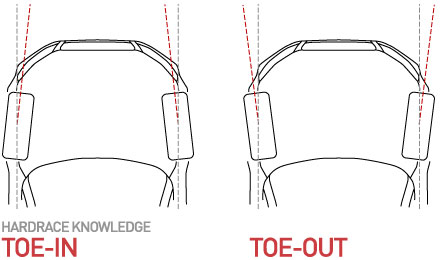 Toe
All cars have adjustable front toe built in as standard but most done have any provision for adjusting rear toe. Hardrace adjustable rear toe arms allow you to set the rear toe as required, be it toe in to generate heat more quickly and increase turn in stability or toe out to make the car more nervous and quicker to change direction for drifting or tight circuit work. Note that adjusting camber and castor also effects toe so you need the ability to reset toe if you go for camber adjustable arms.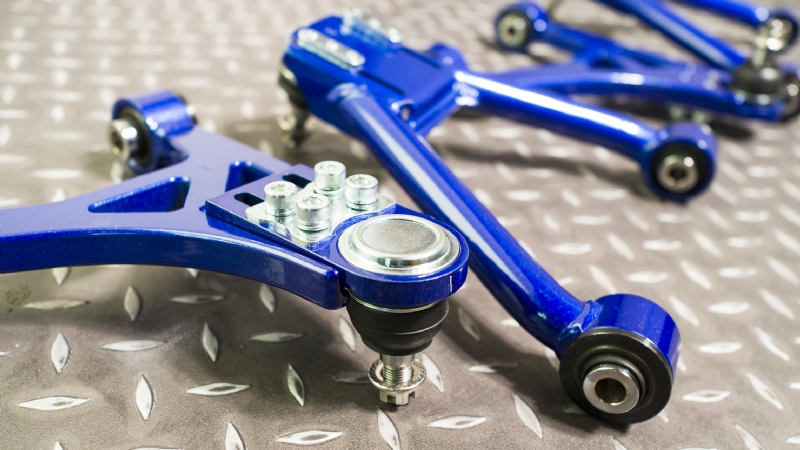 Performance Series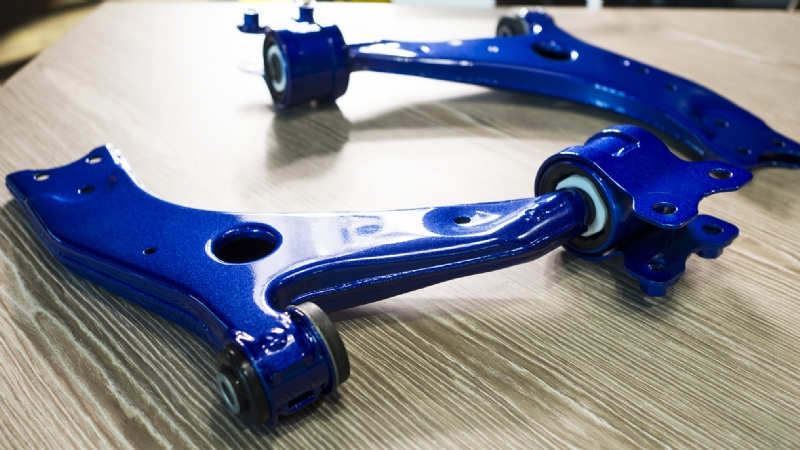 Street Series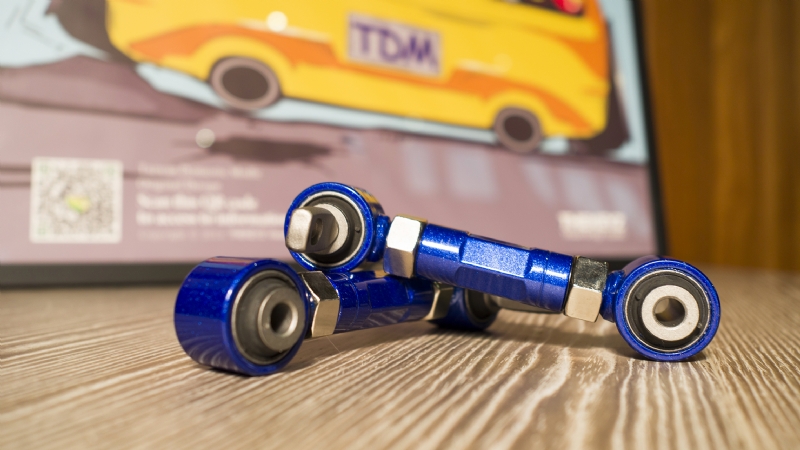 Stance Series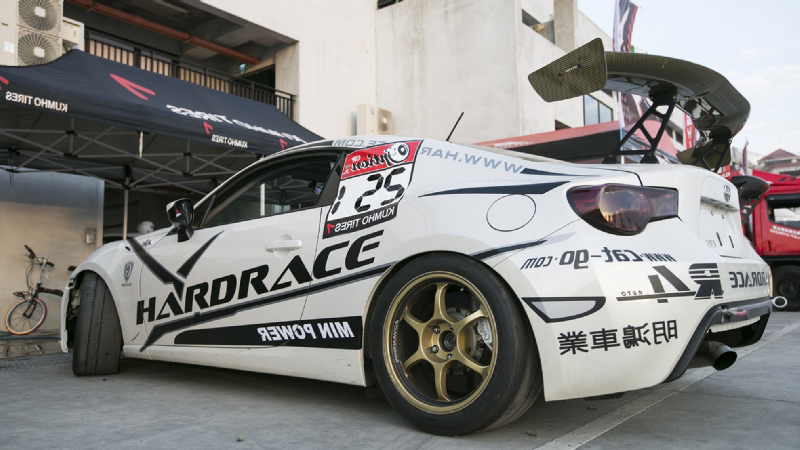 Racing Series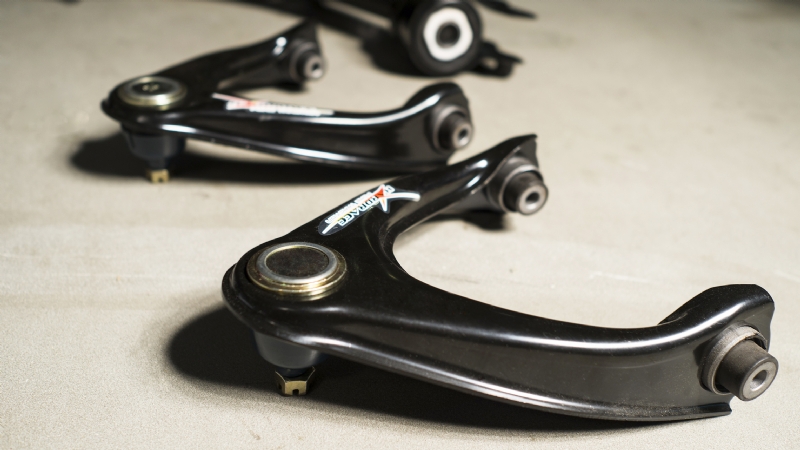 Hardrace OE Arms