Bushing
Suspension bushings are some of the most highly stressed components of a vehicle. They provide movement and work as the joints between the frame and arms, struts and shock absorbers. Therefore, suspension bushings are able to affect the driving stability, ride quality, grip of traction, efficiency of the brakes and lifetime of tires. Once these bushings are worn, the vehicle will undergo an unpredictable and unsafe situation.
Hardened Rubber Bushing
- Over 40 years experiences on rubber manufacturing
- HARDRACE exclusive rubber achieves a balance of hardness and flexibility
- Pre-Compressed procedure allows the bushings work under compressed
- pattern and enhances the durability of bushings
- High strength and anti-crack material extends the lifetime of rubber bushings significantly
- Viscosity between rubber and metal is about 2000kgs
Pillow Ball Bushing
- 10 years experiences on racing track
- Handling control and responsive steering is superior than harden rubber bush
- Precise control and solid suspension feel
- Inner bushing is made accurately with both high molecule plastic tube and specific metal alloy
- Soundless, high durability and reliability
- Outer bushing is combined with anti-dust boot, extend the life of the bushing
Body Reinforced Bushing
- Reduce the subframe movement and make a dramatic improvement in ride
- Fill the gap of the subframe bushings dramati cally firming up the subframe
- Excellent improvement of car handling
- Reduce wheel hop on quick acceleration
- Provide better suspension stability
- A cost effective way to supplement the rear subframe
Swaybar Bushings
Hardrace stabilizer bushings increase the hardness over stock one; the benefit is to fasten the feedback time. Hardrace features that our stabilizer bushings can release grease itself. That's also the reason why Hardrace stabilizer link have longer life. It doesn't trouble you to add grease while hearing the uncomfortable noise.
Structure
Maximize Handling & Solid Road Feel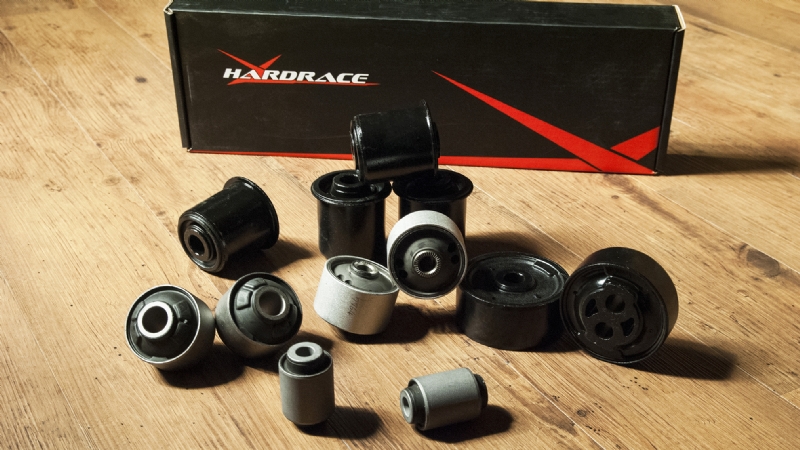 Hyper Rubber Bushing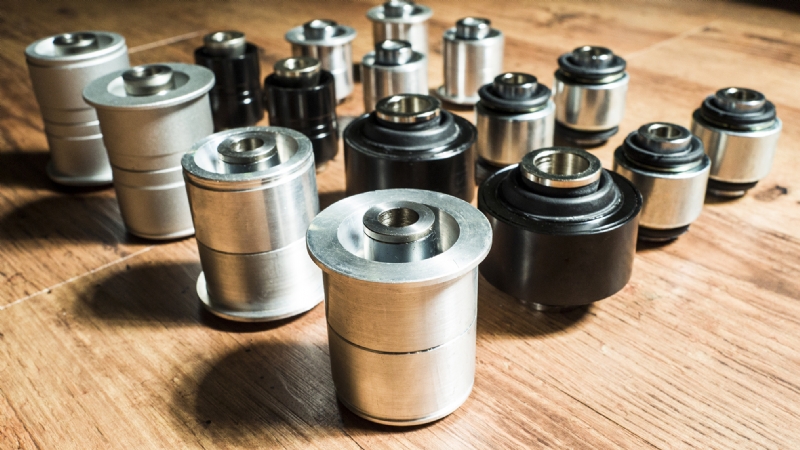 Pillow Ball Bushing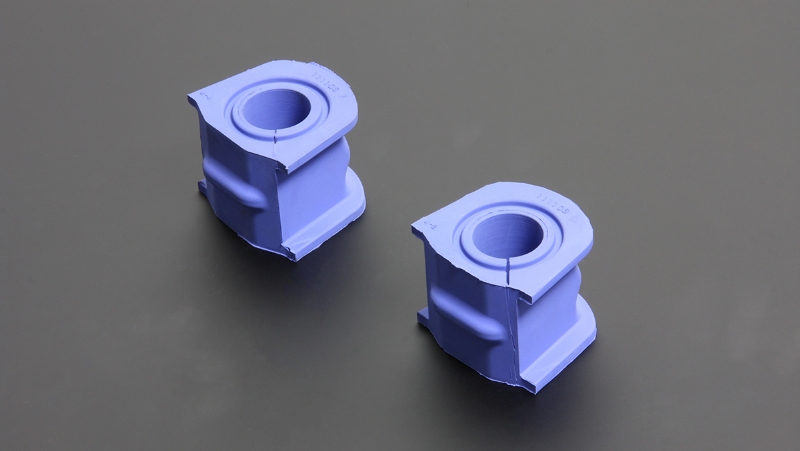 Body Reinforced Bushing